I've always had a soft spot for absinthe – probably because of the way it makes me feel: like I'm in an opium den chatting with Oscar Wilde, or maybe just really drunk.
But the point is that there's just an incredible feeling to relaxing with a glass of my favorite spirit. It's the feeling that first made me fall in love with absinthe and the exact feeling that I hope for with every new purchase.
That said…
Vieux Carée is one of the more popular brands on the market today and I was lucky enough to get my hands on a bottle. Like most absinthes, however, it's not necessarily cheap. Most places that I've seen selling it price it around $60 for a bottle.
With its hypnotizing dark golden-green color and eye-catching decanter bottle design, it's sure to call out to you.
But is Vieux Carré worth buying?
The review continues with information about Vieux Carré Absinthe Supérieure, how it tastes, how much alcohol content is in it, and other valuable information.
Vieux Carré Absinthe Supérieure: Reviewed by an Absinthe Fiend
Philadelphia Distilling, the makers of Vieux Carré Absinthe, released this curious spirit in late 2008. They proudly announce on their website that this was the first absinthe to be distilled, bottled, and sold on the United States' East Coast in nearly a century.
The inspiration behind Vieux Carré is the famous French Quarter of New Orleans, Louisiana. Living reasonably close to New Orleans and possessing a deep love for the city's culture, I couldn't help but grab this when I saw it.
There doesn't appear to be any artificial coloring to this absinthe. Just "grain neutral spirits distilled with herbs with additional herbs added" as the front of the bottle is so keen to remind me.
Small herbal particulates float in the absinthe: a testament to the desire to let the herbs naturally color the spirit and avoid over-filtration.
Recommended: How to Properly Prepare Absinthe (Beginner Friendly Guide)
Personally, I favor a slightly stronger ratio of absinthe to water when preparing a glass for myself. With Vieux Carré coming in at 120 proof, it packs quite the punch.
But don't let that fool you: the flavor here is just as rich, varied, and unique as the French Quarter itself!
The anise flavor is infinitely deep and lingers on the palette very well. Every sip shifts from a warm sweetness at the front to a pleasantly bitter finish in a manner that makes you feel like this Green Fairy is gently curling her finger towards you and beckoning you to take another sip.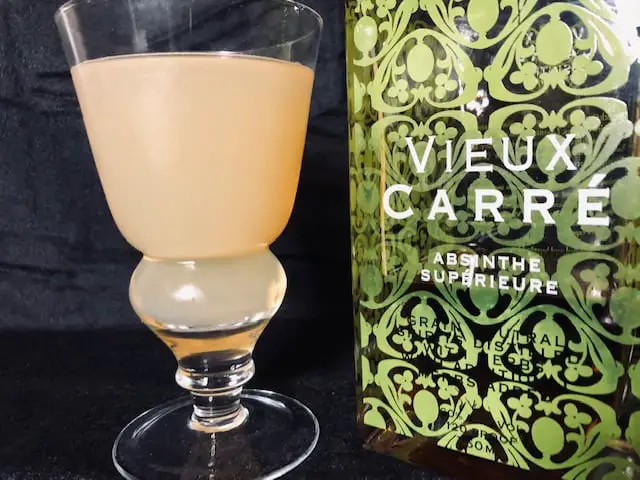 Preparing this absinthe in the traditional manner, I was surprised to see just how strong of a louche was presented. I was initially somewhat off-put by the slight foam that this louche created, but it was ultimately peculiar and enjoyable in equal measure.
The smooth nature of Vieux Carré Absinthe makes for an enjoyable drink to sit with. The classical absinthe herbs of anise, fennel, and wormwood are all very clearly present, but a complex dance of citrus and mint lies just beneath the surface.
All of this combines to form an absinthe that requires you to take it on its own terms. It's raw but infinitely vibrant and complex. Much like the jazz that fills this absinthe's namesake streets, you just have to let go and let it embrace you. It might not be the most "classical" of takes, but it could never be accused of being boring.
Laissez les bon temps rouler!