Ask any seasoned absintheur what their favorite absinthes are, and they will almost certainly mention at least one of the Jades from the legendary Combier Distillery.
While each of these absinthes is genuinely fantastic, today we're looking at my personal go-to: the Jade PF 1901 absinthe verte.
In many ways, this is one of the most popular offerings from Combier Distillery and gets an incredible amount of hype.
While I can tell you that this is undoubtedly a fantastic absinthe that belongs in any collection, let's look a bit deeper at just why this is such a beloved absinthe.
Ready your glass, my friend.
This is the Absinthe Fiend review of the Jade 1901 Absinthe Supérieure!
What Is Jade 1901 Absinthe Supérieure?
You will commonly see Jade 1901 also referred to as Jade PF 1901, and for good reason!
What sets the Jade 1901 apart is that it was created by reverse-engineering sealed "pre-ban" bottles of Pernod Fils absinthe. (Hence the PF in the name!)
Pernod Fils was the biggest name in absinthe distilling back in absinthe's heyday, and still sits comfortably as the grandaddy of virtually every absinthe to come afterwards.
The mastermind behind the Jade line of absinthes and the person who is most credited for the modern absinthe renaissance, T.A. Breaux, is a professional chemist who used his skills to authentically recreate this classic absinthe.
Because of this labor of love, the Jade 1901 is as close as most of us will ever get to drinking the exact same absinthe enjoyed by the likes of Vincent Van Gogh, Paul Gauguin, and Oscar Wilde.
However, those who have been fortunate enough to sample such "pre-ban" bottles have expressed just how similar the Jade 1901 is in every regard.
How is that for some high praise, eh?
Nearly every absinthe comes with its own splendid and unique history, but very few have it to the same degree as Jade 1901 Absinthe Supérieure.
As for the details…
Jade 1901 Absinthe Supérieure is an absinthe verte made by the historic Combier Distillery in France and has a very potent 68% ABV (136-proof).
It was the second of the Jade absinthes to be released (following the also-popular Jade Nouvelle-Orléans).
This is on the pricier end of the absinthe world, with bottles typically going for between $90 and $120. However, you'll soon see why it's absolutely worth every penny!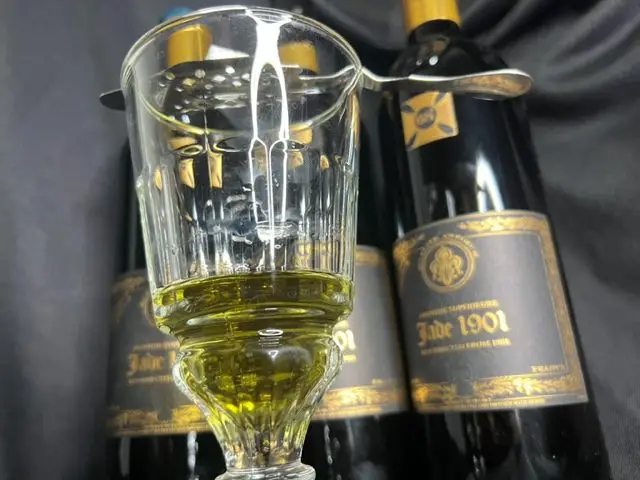 Aroma
Every aspect of the aroma is perfectly balanced, with the anise being the star of the show, supported well by fresh notes of mint and fennel, and followed by a gentle kiss of grande wormwood on the tail end.
There is an unmistakable earthiness to the aroma that perfectly brings all of the aromas together into a perfect harmony that is absolutely mouth-watering.
Patience is a key element of properly preparing absinthe, but prepare to have yours tested from the second you uncork the bottle!
The complexity of the Jade 1901's aromas lies more in its nuances.
With the exception of the anise, all of the other notes are present in ways that are remarkably subtle. You will likely pick up on new elements of the aroma each time you inhale.
When preparing this absinthe, expect the aromas to fully come alive and easily fill a small room once the water starts reacting.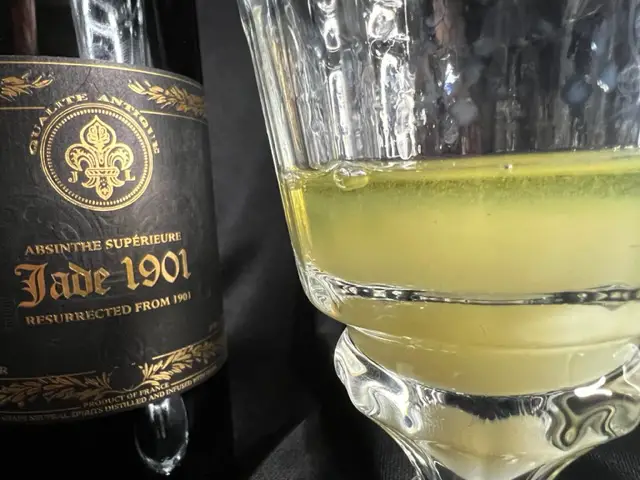 Color & Louche
Jade 1901 pours into the glass as a beautiful olive green color with quick yellow accents. It's remarkably clean, like a shimmering gemstone, though you might get some sediment towards the bottom of the bottle.
(As a note, this sediment is from the distillation process and is totally fine.)
The louche is totally unlike nearly every other absinthe I've tried. The closest I've seen in terms of louche thickness from a non-Jade absinthe is probably that of Atelier Vie's Toulouse Green.
Watching the rich oil trails form and swirl, there are pronounced and almost shimmering gold hues that seem to frame each trail as it forms. It's nothing short of enchanting!
But don't be fooled by the intensity of the Jade 1901's louche!
If you add water slowly, you'll get the full experience of a very unique layering effect.
With a thick louche at the bottom of the glass, rich pale hues in the middle, and a layer of absinthe patiently waiting its turn on the top, it's hypnotizing.
As eagerly as this absinthe takes to the water to form the louche, it still knows how to put on a show!
Recommended: How to Prepare Absinthe (The Right Way!)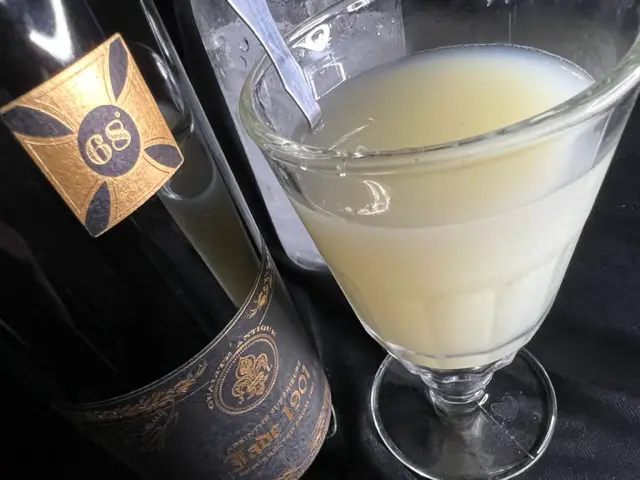 Flavor
Of course, at the end of the day, the flavor is what matters most. In that regard, the Jade 1901 does not disappoint in the slightest!
This absinthe is remarkably thick and creamy with rich, earthy notes that guide you through a perfectly balanced tour of the entire "Holy Trinity" of anise, fennel, and wormwood.
You get the seductive flavor of anise right up at the front, which naturally paves the way to the invigorating body with fennel and mint. The sip is punctuated with a slightly bitter wormwood finish that ends things on a very crisp and refreshing note.
The oils in the Jade 1901 are rich, creating a fun and lingering mouthfeel that also doesn't overstay its welcome.
Almost dangerously, there is very little alcohol burn in each sip.
Between the fresh flavors and almost complete lack of burn, one glass of Jade 1901 can very quickly turn into much, much more.
In fact, I'm willing to bet that that's why I'm only just now writing this review. I could have sworn that I already published it!
Related: How to Taste Absinthe Like a Pro
Conclusion – Jade 1901 Absinthe Supérieure Review
What I love most about Jade 1901 Absinthe Supérieure is its expert simplicity.
At the end of the day, this is an absinthe that is profoundly balanced but in a way that it doesn't lose its character or complexity. It can be simply enjoyed whether you are taking it for what it is or if you are discovering the playful nuances within it.
Some critics might take the stance that its "same-ness" is a bad thing, especially when compared to more complex absinthes.
However, this consistency and its greater availability in my area are a large part of why it's my go-to.
Sometimes, you just want something that can be easily enjoyed, but that still represents what is among the highest levels of quality in its crafting.
So maybe the Jade 1901 Absinthe Supérieure is a "basic" option, but for my money, it shows a mastery of the basics that all great absinthes are built on.
If I ever don't have a bottle of this on my bar (with at least another few stored away safely), something has gone terribly wrong.
Was there ever any doubt that I'd be awarding the Jade 1901 a 5-star rating?
If you see a bottle of this, do yourself a favor and pick it up. You'll see just what absinthe can be in its purest, no-frills, masterfully-crafted form.