One of my favorite things about absinthe is that it's a drink with history. Sometimes good, sometimes bad, but always interesting, it's a drink that proudly wears its age.
So it only seems fitting that there would be numerous absinthe cocktails with that same kind of history, doesn't it?
This is the famous and much-loved Corpse Reviver No 2.
Originally published by legendary bartender Harry Craddock, the Corpse Reviver made its debut in the Savoy Cocktail Book almost a century ago in 1930.
Even when absinthe was still illegal, these were still popular drinks. Of course, Herbsaint, Pernod's anise liqueur, and pastis were used instead of absinthe in those days.
But now we get the genuine article!
This is one of those "hair of the dog" drinks that's meant to stave off the previous night's excesses. But even if you aren't a corpse looking for a pick-me-up, it's a great choice!
Though it's probably wise to heed Craddock's warning: "Four of these taken in swift succession will un-revive the corpse again."
Despite its sweet tartness, this is a deceptively strong drink!
For the gin, make sure you're using a London dry gin. Personally, I recommend using Tanqueray for its notes of coriander and licorice.
If you prefer a more subtle gin, the rose and cucumber in Hendricks make it an excellent choice as well.
You can substitute dry vermouth for the Lillet Blanc if you must, but I would discourage you from doing so. The bright flavors of the Lillet Blanc really bring this drink to life. (Pun possibly intended…)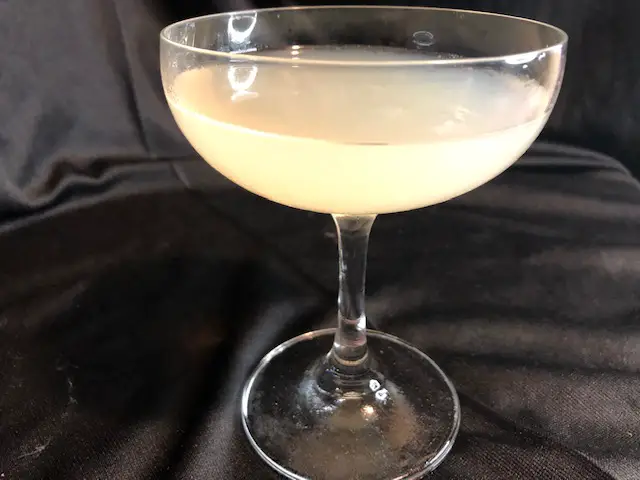 Need coupe glasses? These are the ones that I use!
Ingredients
3/4 ounce London Dry Gin
3/4 ounce Cointreau
3/4 ounce Lillet Blanc
3/4 ounce fresh lemon juice
1/2 teaspoon of absinthe
Orange slice (optional)
Instructions
Add the gin, Cointreau, Lillet Blanc, and lemon juice into a cocktail shaker with ice.
Shake vigorously then strain into a chilled coupe glass.
Add the absinthe and serve.
Garnish with an orange slice, if desired.