"You're making WHAT?!"
I recently had some friends over for a night of absinthe, games, and conversation. The look on their faces when I said that I was going to prepare some Monkey Glands in the kitchen was simply priceless.
They were terrified at first. But a cautious first sip was quickly followed by me having to return to the kitchen some 10 minutes later to prepare another round.
While this cocktail (and its admittedly awkward name) trace back to the 1920s, it's still delicious today!
For the gin, I'm a huge fan of Hendricks and it's been my go-to gin for over a decade now. It's high-quality and typically easy to find with its notes of rose and cucumber adding a curious kiss of extra complexity.
If you can't find Hendricks or want to save a few dollars, some good replacements are Martin Miller's Gin or Beefeater.
For the absinthe, I'd recommend going with something simple.
The absinthe flavor takes a back seat in the Monkey Gland, so you don't want something overly complicated. Pernod Absinthe is my typical absinthe of choice for most cocktails, but St. George Absinthe Verte can work well for this too.
Served in a chilled coupe glass, the Monkey Gland is an excellent absinthe cocktail to enjoy in the summer!
Need coupe glasses? These are the ones that I use!
You can also check out the alternate version of the Monkey Gland here!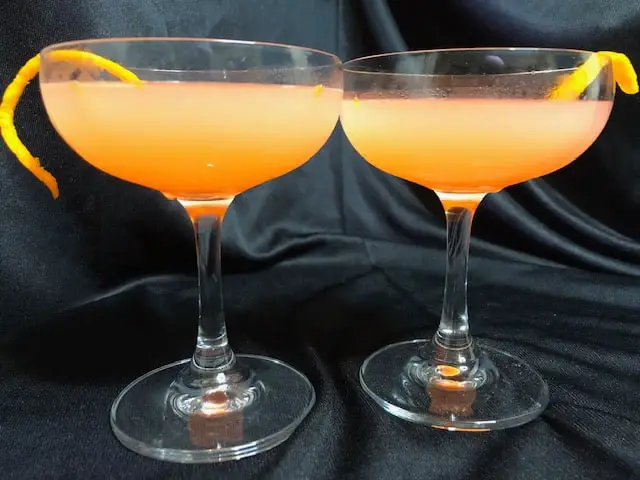 Ingredients
1.5 ounces Hendricks Gin
1.5 ounces Orange Juice
1 barspoon Pomegranate Grenadine
8 drops Pernod Absinthe
1 Maraschino Cherry
1 Strip of Orange Zest
Instructions
Pour gin, orange juice, grenadine, and absinthe into a cocktail shaker.
Add ice and shake well.
Strain into a chilled cocktail glass.
Garnish with the cherry and orange zest.