Playing around the Absinthe Fiend Laboratory, I'm proud to share another original recipe with you.
The goal was to create a cocktail that was just a solid ashy gray color but that still tastes good. Combining several of my latest obsessions, my Absinthe Minions and I have created what we have dubbed: the Cremator.
The flavor is a dance of floral flavors tied together with a pronounced lemon kick. Throughout each sip is the undercurrent of herbal absinthe flavors.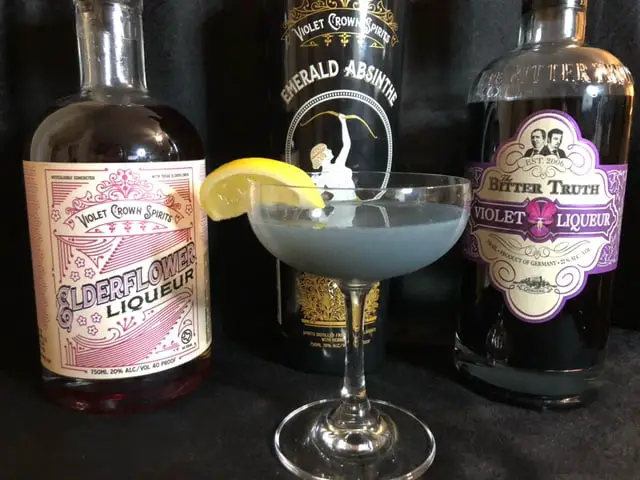 Violet Crown Spirit's Elderflower Liqueur was an essential part of this. Not only is this my favorite Elderflower Liqueur on the market, but the color is what ties the green absinthe and Violette together to create the perfect shade of gray.
With Violet Crown's Emerald Absinthe becoming my latest favorite, I had to use it for this experiment. It made it perfect!
Enjoy!
Ingredients
1 ounce Verte Absinthe (Recommended Violet Crown Distillery's Emerald Absinthe)
1 ounce Elderflower Liqueur (Recommended Violet Crown Distillery's Elderflower Liqueur)
1 ounce The Bitter Truth Violette Liqueur
3/4 ounce fresh squeezed lemon juice
Lemon wedge (for garnish)
Ice
Instructions
In a cocktail shaker, add the absinthe, elderflower liqueur, violette liqueur, and lemon juice
Add lots of ice and shake vigorously for 20-30 seconds
Strain into a coupe glass and add the lemon wedge for garnish