I have a confession to make… Absinthe isn't my one and only true love.
Over the last eight years or so, I've had numerous evenings spent with another delicious green, herbal drink: Chartreuse.
More specifically, I'm talking about a cocktail that I hold near and dear to my heart: The Last Word.
Originating back in the days of Prohibition, this is often THE cocktail that people think about when you mention Chartreuse.
If you haven't tried one, you're truly missing out on this classic concoction!
However, as Chartreuse is getting more and more difficult to acquire, it has become necessary to bring my dirty little secret into the light.
Thankfully, the Green Fairy can be very forgiving and has even been happy to help me cope with the Chartreuse shortage by adding her own unique twist to this classic cocktail.
While there are many differences between Chartreuse and absinthe, the rich and complex herbal flavors still make for a wonderful sipping experience. It just takes a little bit of adapting.
Thankfully, working with a bartender friend of mine, I believe we've finally found a winning recipe!
Some Special Considerations
For this absinthe-based take on The Last Word to work well, the quality of the absinthe that you use is non-negotiable. In most absinthe cocktails, there's some wiggle room but that's not particularly the case here.
While the typical Last Word is made with equal parts of its ingredients, we need to find the right balance for the Green Fairy's version of the drink.
The goal is to bring out the unique flavors and not overpower them. Otherwise, why would we be using absinthe at all?
The Jade Nouvelle Orléans was the clear winner in our experiments. However, I also recognize that this is a pricier option that might not really work as a cost-friendly substitute for Chartreuse.
Leopold Bros Absinthe Verte made for an interesting version of this cocktail as well. The anise in that absinthe is pulled back a bit with the grande wormwood really standing out. It's slightly more bitter, but the maraschino liqueur does a good job of balancing that out.
You might also consider Pernod Absinthe Supérieure which is a great, balanced absinthe that is commonly my go-to for most absinthe cocktails.
As with most of the recipes on this site that involve gin, I also recommend using Hendrick's gin. It's simply the best and the notes of cucumber and rose add an unmistakable freshness and extra layer of depth to the drink.
For the maraschino liqueur, stick with Luxardo. There's no substitute!
If you want to bring a little bit of extra fruitiness to the drink, you might also add a couple of dashes of orange bitters to the mix.
While this made it a bit too fruity (instead of heavily herbal) for my taste, my friend loved it and said that this "made it" for him. Just use the bitters sparingly as more than two dashes can quickly become overpowering!
With those special considerations out of the way, let's get to mixing!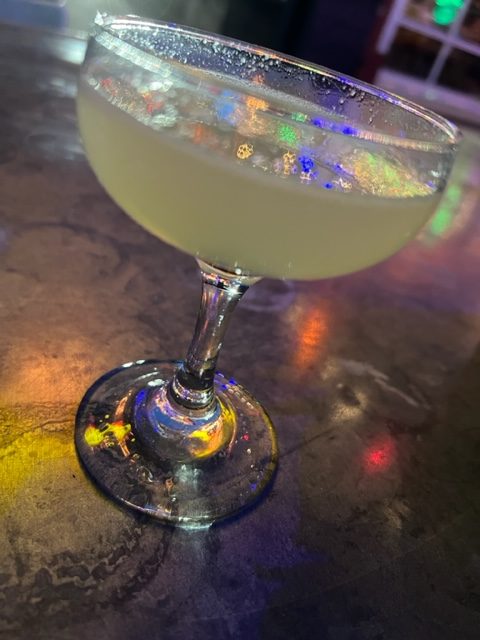 Ingredients
1 fl oz Hendrick's Gin
3/4 oz Absinthe Verte
3/4 oz Luxardo Maraschino Liqueur
1/2 oz Fresh Squeezed Lime Juice
Brandied Cherries (for garnish)
Instructions
Add the gin, absinthe, maraschino liqueur, and fresh lime juice into a cocktail shaker with ice. 
Shake vigorously.
Strain the contents into a chilled coupe glass. 
Add brandied cherries for garnish.