If you love a strong bouquet of herbal flavors in a cocktail, look no further than the Green Goddess!
I'm currently based in Texas where every day has been over 100 degrees for the last 3 weeks now. Mix in the humidity and it's been… intense…
Thankfully, this is a cocktail that is deliciously complex and refreshing for even this intense weather!
To make this recipe really pop, you want to make sure that you're using the freshest basil and thyme that you can get. The herbal flavors and aromas should be front and center throughout each sip!
I use Hendrick's gin to make mine. Not only is it my favorite gin, but the important thing to make this recipe work is the taste of cucumber.
If you don't want to use Hendrick's gin, I would instead recommend picking up a cucumber vodka. Effen and Square One are both excellent options.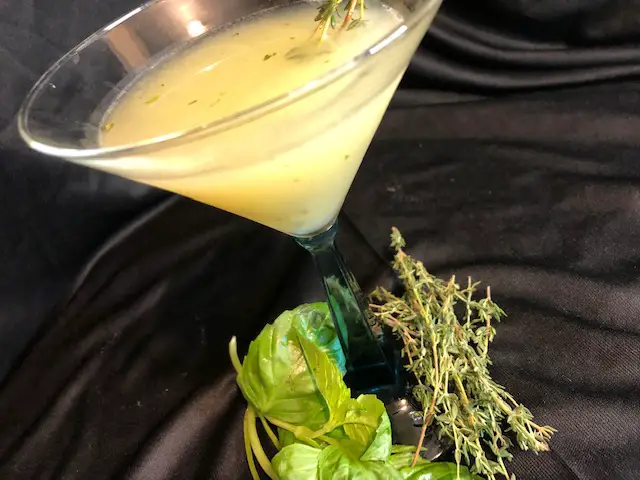 Ingredients
Fresh basil leaves (4-5 leaves)
1 1/2 ounces Hendricks Gin
1/2 ounce simple syrup
1/2 fresh lime juice
1/2 ounce absinthe
1 spring of fresh thyme 
Instructions
Muddle the basil leaves in a cocktail shaker until bruised.
Add gin, simple syrup, lime juice, absinthe, and thyme.
Fill the shaker with ice and shake vigorously.
Strain into a chilled cocktail glass.
Garnish with the thyme sprig.