Any classic cocktail is bound to have a variation or two and the Monkey Gland is no exception!
This version tones the citrus down and brings the botanicals from the gin and absinthe more towards the front.
As I mentioned in the recipe for the original Monkey Gland cocktail, my friends and I really enjoyed these. Despite the strange and off-putting name, they really hit the spot!
Admittedly, the layering does deviate from the typical presentation of this version of the Monkey Gland. However, I felt that it adds more to the presentation and also creates an interesting drinking experience.
The first couple of sips will be stronger but they work to refresh the palate. With each sip, the drink gets sweeter until you're left with a deliciously sweet cherry at the end of the experience.
As one of my friends said, "it's like candy!"
Hendricks is my go-to gin, especially in a cocktail like this where it's front and center. The rose and cucumber make for an incredibly pleasant experience that softens the edge that gin is known for.
Furthermore, these elements play very well with the more delicate absinthe blanche.
For the absinthe, don't use a blanche that is too complicated. Something simple with a very clean flavor is preferred here.
I opted to use Violet Crown's Opal Absinthe, but it might be harder to find outside of Texas. For our second round, I used the exceptional La Clandestine.
Served in a chilled coupe glass, the Monkey Gland is an excellent absinthe cocktail to enjoy in the summer!
Need coupe glasses? These are the ones that I use!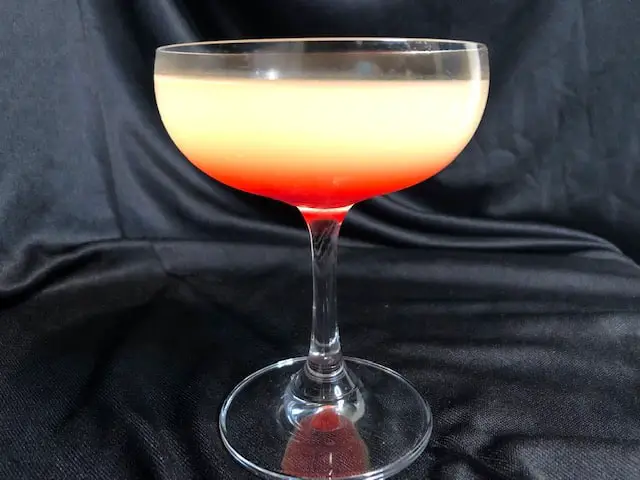 Ingredients
1 3/4 ounces Hendricks Gin
3/4 ounce Orange Juice
1/4 ounce Grenadine
1/8 ounce Absinthe Blanche
1 Maraschino Cherry
Instructions
Pour gin, orange juice, and absinthe into a cocktail shaker.
Add ice and shake well.
Strain into a chilled cocktail glass.
Using the back of a spoon to control the flow, gently layer the grenadine just on the surface of the drink. (It will settle onto the bottom.)
Garnish with the cherry. (I like to let the cherry soak at the bottom, personally.)