It might be the "love it or hate it" reaction to the anise flavor in absinthe, but it seems like the Green Fairy has a bad reputation for being hard to work with.
In reality, however, absinthe is a remarkably versatile spirit.
I think that's what I especially love about the North of the Border cocktail. It's something that seems to defy expectations and create something fun and refreshing.
The herbal flavors of absinthe, fresh citrus, and the tinge of vanilla and caramel from Crown Royal might seem like an odd mix. But they come together beautifully!
Make sure that you are freshly squeezing the juices for this cocktail. That's the trick to really getting the flavors and texture just right. It's a small extra step that makes an entire world of difference.
Additionally, definitely use Crown Royal for this. It's a very smooth whisky that brings the perfect flavors into the mix. If you use something too spicy or woody, it'll throw the whole thing off in a terrible way.
Lastly, don't go overboard with the bitters. A little bit will go a very long way!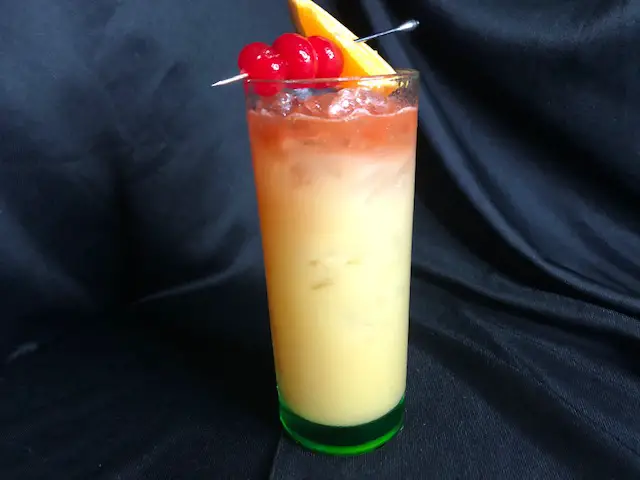 Need Highball glasses that stand out? These are what I use!
Ingredients
1/2 ounce simple syrup
1/2 ounce lemon juice (fresh squeezed)
1/2 ounce orange juice (fresh squeezed)
1/2 ounce absinthe
2 ounces Crown Royal Whisky
Angostura Bitters
Cherries and Orange Slice (for garnish)
Instructions
Chill a Highball glass and fill it with ice.
Add simple syrup, lemon juice, orange juice, absinthe, and whisky into your cocktail shaker. 
Shake vigorously without ice.
Pour into the Highball glass.
Add 2-3 dashes of Angostura bitters.
Garnish with an orange slice and cherries then serve.