After several requests, I'm proud to finally offer my review of Oregon Spirit Absinthe Original.
There doesn't seem to be a lot of information out there about this offering from Oregon Spirit Distillers. While they are mostly known for the whiskeys, it's time to see how their absinthe holds up!
This is an absinthe that has been on my list to try for a while now.
So let's dive in!
What Is Oregon Spirit Absinthe Original?
Oregon Spirit is a real absinthe and is made with the "Holy Trinity" of wormwood, anise, and fennel.
It is made by Oregon Spirit Distillers in Bend, Oregon who say that its recipe has taken cues from subtleties such as "the glow of a comet tail, the feathered dust of a moth's wing, and morning dew in the garden."
Oregon Spirit Absinthe Original is a 125 proof (62.5% ABV) absinthe verte made with grain neutral spirits.
Being made in the traditional European style, Oregon Spirit aims to provide the classic Parisian absinthe experience to the US domestically.
Recommended: How to Properly Prepare Absinthe (Beginner Friendly Guide)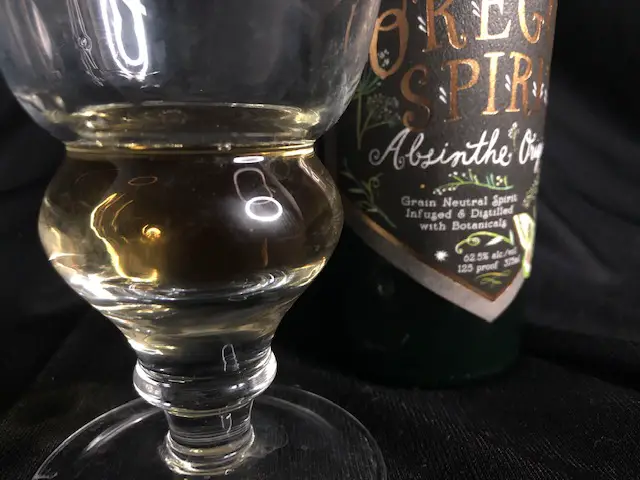 Aroma
Unlouched, Oregon Spirit has a thick aroma that hits all the herbal notes that I would expect from an absinthe verte. The aroma is very anise forward with a slight burn from the alcohol content.
Adding water, the louche amplifies the aromas within the absinthe. As the oils interact with the water, the anise begins to take a backseat while the wormwood is brought to the front of the nose.
This aroma is reasonably full-bodied and balanced, though I would have liked to pick up more aroma from the clove. But that's admittedly a minor gripe.
Still, Oregon Spirit has a balanced aroma that presents well and captures the enchantment of the Green Fairy.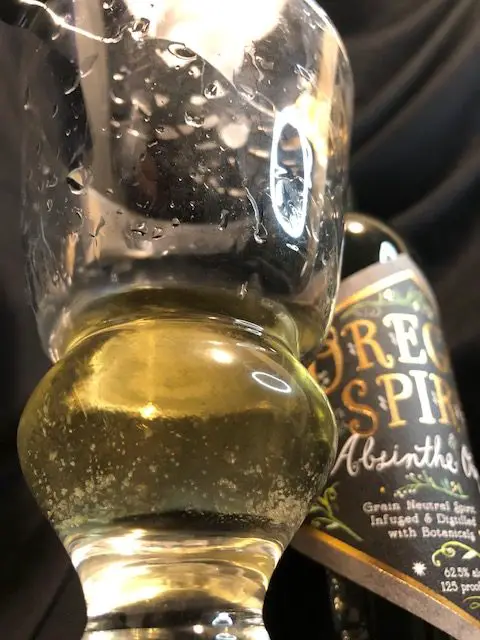 Color & Louche
Before adding water, Oregon Spirit is a dark greenish-brown in a way that looks very natural.
Regular readers of this blog will know that I tend to get pretty upset when distillers add dyes, so it's always nice when an absinthe is naturally colored!
Oregon Spirit's louche appears quickly and has a nice, milky medium body.
For this absinthe, the louche is at its best at around 2 parts water to 1 part absinthe. However, you'll want to do more of a 3:1 or even a 4:1 ratio with Oregon Spirit.
(As we'll cover in the next section, this is a very bitter absinthe.)
While the louche is forming, pay attention to the swirls of the natural oils in the absinthe as they interact with the water.
They're very subtle in Oregon Spirit, but still present and quite a fun "dance" to watch!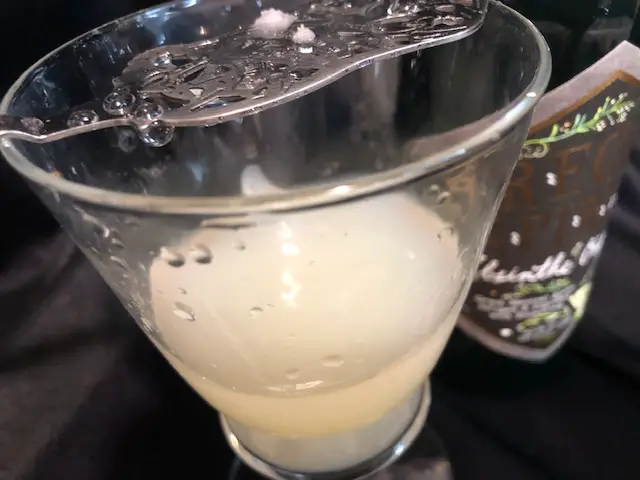 Flavor
Given the rich aromas, I was very excited for my first sip of Oregon Spirit. However, it was shockingly bitter.
Now, I enjoy a nice bitterness in my absinthe, but this was more bitter than anything I had tried before. It completely caught me off guard and gives it a weird somewhat "chemical" taste.
I can't say I've ever sucked on a handful of nickels, but I'd imagine it's a similar experience.
Beyond the bitterness, Oregon Spirit's flavor is very earthy and I do pick up some faint spicy notes of clove. Curiously, the anise takes a back seat with the wormwood doing most of the flavor's heavy lifting in Oregon Spirit.
The fennel is certainly present in each sip, but it can be a bit difficult to pick up on it through the wormwood's intense bitterness.
I ultimately felt let down by Oregon Spirit's flavor. The bitterness was just simply too overwhelming to really appreciate any other flavors that it was giving me.
Preparing it with more sugar cubes (instead of my preferred usual 1 cube) would help with the bitterness. That said, sugar should be used to accentuate absinthe's flavors and not merely as a cover-up.
However, I did later use some to make a Death in the Afternoon and that was much more palatable.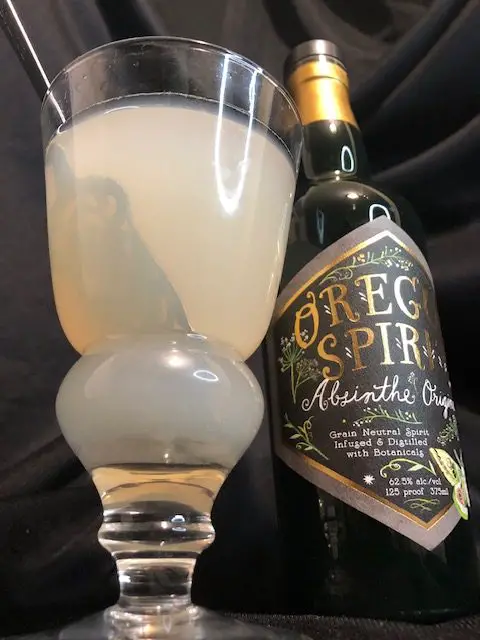 Conclusion – Reviewing Oregon Spirit Absinthe Original
Everything was passable about Oregon Spirit Absinthe until we got to the most important part: the flavor. At the end of the day, that's what matters most!
If the recipe were redesigned to tone down the intense bitterness and bring out other flavors (like clove and hyssop), I would be happy to rank it higher.
You could do worse than Oregon Spirit Absinthe Original, but you could also do better for the price.
If you're drinking absinthe on its own, I'd instead recommend going with Lucid Absinthe Superieure or St. George Absinthe Verte which are both only a few dollars more. (Assuming you're looking at the 750 mL bottle.)
Otherwise, I'd recommend spending the extra $10 or so and grabbing something like Pernod Absinthe or Mansinthe which you will enjoy much more.
While Oregon Spirit wouldn't be my first choice for most absinthe cocktails, it's not a terrible option if that's what you're wanting absinthe for.
Just don't overdo it and be sure that you're mixing it with ingredients that will offset the bitterness. A little bit will go a long way with this!