It's summertime which means there's nothing quite like a cool, minty drink to refresh the palate.
The Green Monster is incredibly easy to make and tastes delicious. Especially as the summer keeps getting hotter, this is quickly becoming my go-to absinthe cocktail!
While similar in name, don't get this confused with another popular (and fantastic) cocktail, The Green Beast!
Crème de Menthe can be found in both green and clear varieties. Make sure that you get the green one so that you can get the color of this cocktail just right. (I use DeKuyper's Crème de Menthe. It's cheap but still tastes great!)
Also, make sure that you're getting fresh mint leaves. I have a small herb garden where I'm growing my own, but you can generally find fresh mint at any grocery store.
Any time you use mint, I recommend lightly beating the mint on your wrist or back of your hand. The goal is to get the mint to release more of its aroma.
Most absinthes will be fine for this recipe, but after trying a few different ones I found Pernod Absinthe to really blend with the mint flavor the best. If you don't have Pernod, Lucid makes for a good second choice.
Either way, I would recommend sticking with an absinthe verte for this one!
Santé!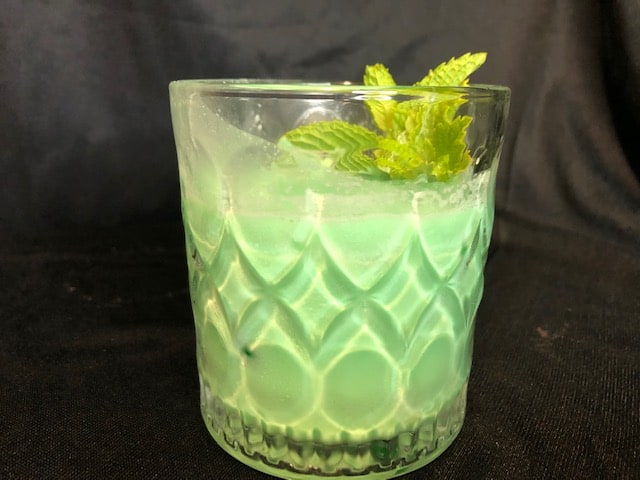 Need a sturdy rocks glass? These are the ones that I use!
Ingredients
1 ounce Crème de Menthe
1 ounce absinthe verte
1 1/4 ounces heavy cream
Fresh mint leaves (for garnish)
Instructions
Fill a rocks glass with ice and set it to the side for now
Add the crème de menthe, absinthe, and cream into a shaker with plenty of ice. 
Shake thoroughly (15-20 seconds)
Strain the drink into the rocks glass
Gently beat the mint leaves to release flavor and add as a garnish