The North by Northwest puts a twist on the classic French 75 cocktail by adding absinthe to the mix. If you're a fan of that or other cocktails like the famous Death in the Afternoon, this is for you!
Just be aware that, much like the French 75 it's based on, this one hits incredibly hard.
But what really makes this such a great absinthe cocktail is how bright and refreshing it is. The herbal notes from the gin and absinthe are greatly accentuated by the citrus.
As we're moving deeper and deeper into the heat of summer, this has started to become my go-to cocktail at the end of a long day. It's fun, refreshing and an excellent drink to sip on and beat the heat!
If you read many of the recipes on this site, you'll know that I almost exclusively use Hendricks when a cocktail calls for gin. It's easily my favorite gin and plays very nicely with the other flavors in most cocktails.
The North by Northwest is no exception!
As for the absinthe in this recipe, I recommend the classic Pernod absinthe verte. It hits the perfect notes to add to this cocktail without dominating the other flavors or making it taste too complicated.
However, a lighter absinthe blanche like La Clandestine would also be a good choice depending on your taste.
Lastly, the recipe properly calls for champagne or sparkling wine. While I did enjoy the round I made with champagne, I've come to actually prefer making it with Prosecco.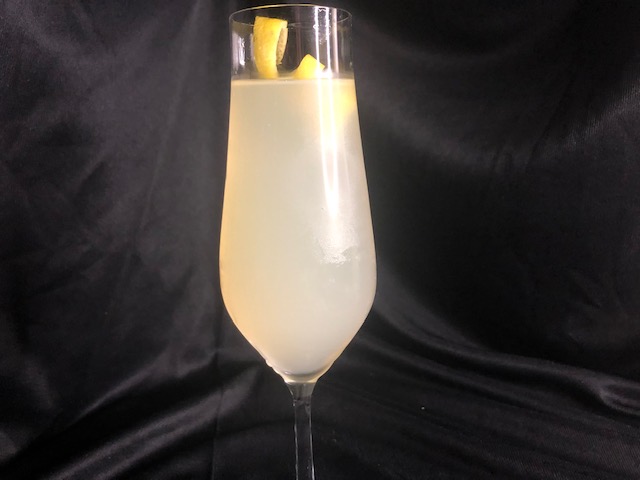 Need great champagne flutes? These are the ones that I use!
Ingredients
1 1/2 ounces gin (Hendricks recommended)
1/4 ounce absinthe (Pernod recommended)
3/4 ounce fresh lemon juice
3/4 ounce simple syrup
Champagne (or Prosecco)
Lemon twist for garnish
Instructions
Pour gin, lemon juice, simple syrup, and absinthe into a cocktail shaker.
Add ice and shake well.
Strain into a champagne flute.
Top off with champagne (or Prosecco).
Garnish with a twist of lemon.