Absinthe and New Orleans go together like red beans and rice. It's impossible to talk about absinthe's history and culture without mentioning the life that it found in The Big Easy.
Thousands of miles away from the Parisian cafes, the Green Fairy gained new fans on the other side of the Atlantic.
So why shouldn't that time-honored tradition of absinthe be continued today in the city that served as absinthe's landing site in the United States?
The Atelier Vie distillery in New Orleans is happy to bring classic methodology with new-school innovation to create extraordinary absinthes.
Today the Green Fairy is wearing red as we review Atelier Vie's Toulouse Red Absinthe Rouge!
Get ready for something truly unique!
What is Atelier Vie Toulouse Red Absinthe Rouge?
Toulouse Red Absinthe Rouge is distilled by Atelier Vie Distillery in New Orleans.
The absinthe is pot distilled with no artificial ingredients, flavors, or colors. In fact, the wormwood used to make it is harvested straight from the distillery's garden!
It has an ABV of 68% (136 proof) and is made with cane neutral spirits which contribute to its natural sweetness.
You can safely consider Toulouse Rouge as an evolution of absinthe culture in New Orleans. It pays respect to its past and craft while also making its own mark with modern innovations.
There's a great deal of "shelf appeal" to Toulouse Rouge as well. The smooth, rounded bottle stands elegantly while the bright red of the label and wax seal immediately grab your attention.
Fun fact: Atelier Vie's Toulouse Rouge took home the Silver medal in the American Distilling Institute's 2014 Spirits Competition.
I do also want to mention that comparisons to Toulouse Rouge's counterpart, Toulouse Verte, are going to be unavoidable.
Related: You can read my review of Toulouse Verte here!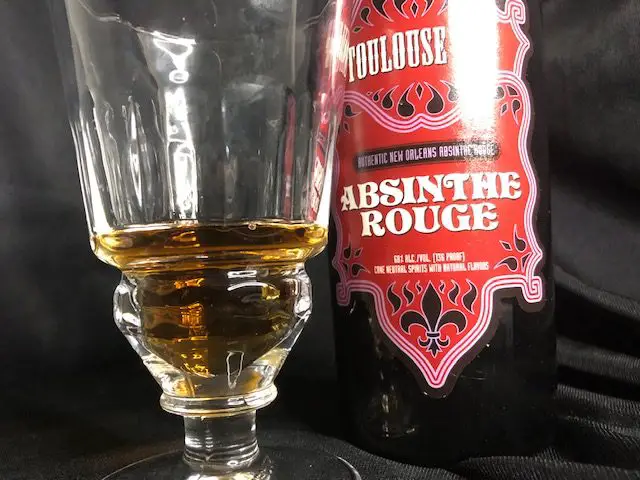 Aroma
There's a certain bright energy to this absinthe.
From the second you open the bottle, the aroma of Toulouse Rouge is excited to greet you. It's not a shy aroma at all!
You'll quickly notice the crisp freshness of the aromas balanced with floral hibiscus, smooth mint, and notes of citrus.
There is only the slightest burn from the alcohol's aroma and it comes off more like a playful "love bite" than anything.
All in all, the aroma is complex but doesn't stand out as being pretentious or inaccessible.
And then it's time to add the water!
When you begin preparing Toulouse Rouge, the louche takes hold and the full bouquet of aromas is realized.
No new aromas make themselves known, but the elements that you already detect begin to play and mingle with each other in new ways.
Balance is the name of the game with Toulouse Rouge. Each ingredient gets a moment to shine then steps back to let another ingredient have its turn in the spotlight.
It's a mesmerizing and exciting experience!
Recommended: How to Properly Prepare Absinthe (Beginner Friendly Guide)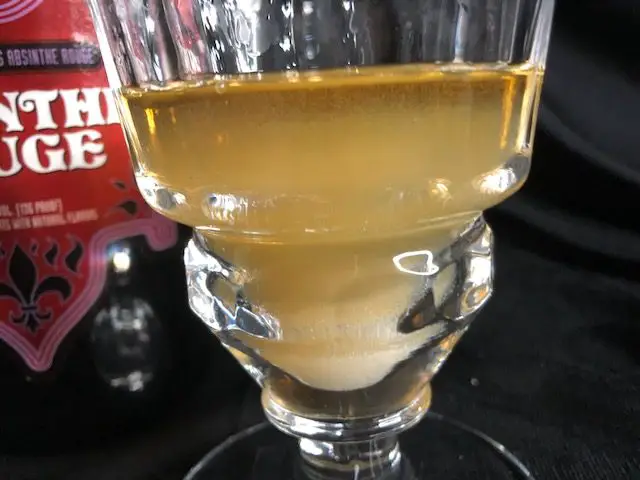 Color & Louche
Atelier Vie has absolutely nailed the deep and moody red hue that so many rouges strive for.
Toulouse Rouge has a deep orange-red color that is naturally colored by the inclusion of hibiscus. As it ages, expect more of an orange color though this won't particularly impact the flavor.
Much like the Toulouse Verte, you can already see the curious trails of the natural oils even before adding water. This is a very good sign!
But finally, we begin adding water and get to everyone's favorite part: the louche!
Toulouse Rouge has a deep, thick louche that keeps absinthe's famous opalescent color but mixes in those tints of red, pink, and orange to bring even more character to the louche.
While you're preparing it, pay extra attention to the red streaks in your glass as the louche is forming.
The color here is so deep that you'll be able to see even more of the reaction between the water and natural oils as the louche forms!
As the louche reaches its end, you'll still catch glimpses of that pink hue. However, these are very soft so don't expect some kind of bright neon pink color.
I consider myself a patient person, but the aroma and color of Toulouse Rouge filled me with a great deal of anticipation that was almost too much to stand!
With everything else appreciated, it was finally time to move on to the best part!
Related: The Essential Guide To The Styles of Absinthe!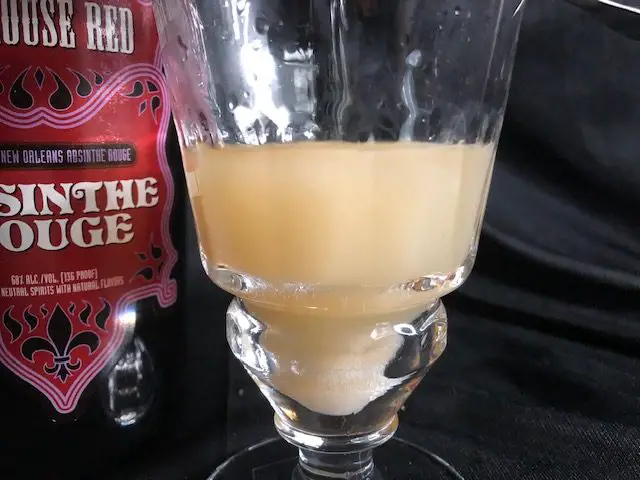 Flavor
The aroma of Toulouse Rouge was certainly enticing, and the flavor did not disappoint!
A problem that I have with many Rouges is that they seem shy to bring out the hibiscus flavor, but Atelier Vie's Toulouse Red brings it to the front and center.
Tangy and floral flavors from the hibiscus marry beautifully with the fresh wormwood, anise, and fennel.
As expected from an absinthe rouge, Toulouse Rouge has a more delicate flavor profile than the Toulouse Verte. All of the flavors are certainly there, but they don't lay it on as thick as their green counterpart.
The tangy "zip" from the hibiscus is strongly present without being overpowering throughout the mid-palate. Meanwhile, the trinity of anise, fennel, and wormwood guide the flavor at the front and back end with a sweet and minty kiss of flavor.
All in all, It's a very refreshing flavor and mouthfeel that will stay with you after each sip without overstaying its welcome.
The delicate balance of the flavor profiles in Toulouse Rouge is one of the more interesting ones I've experienced.
Balancing the traditional absinthe herbs with the hibiscus is like a tightrope walk where it's easy to overdo or underdo any of the key flavors.
Thankfully, Atelier Vie has absolutely nailed this flavor balance!
But be aware!
Like Atelier Vie's Toulouse Verte, this is a sweeter absinthe due to the cane neutral spirits.
Depending on your sweet tooth, it might be a good idea to not prepare this with sugar. I tried it both with and without sugar and found it to be incredibly enjoyable in both cases.
Without the sugar, you'll get more of the floral flavors though. Despite using pictures of preparing it with sugar, I did prefer Toulouse Rouge with a simple water drip.
Recommended: How To Taste Absinthe Like A Pro!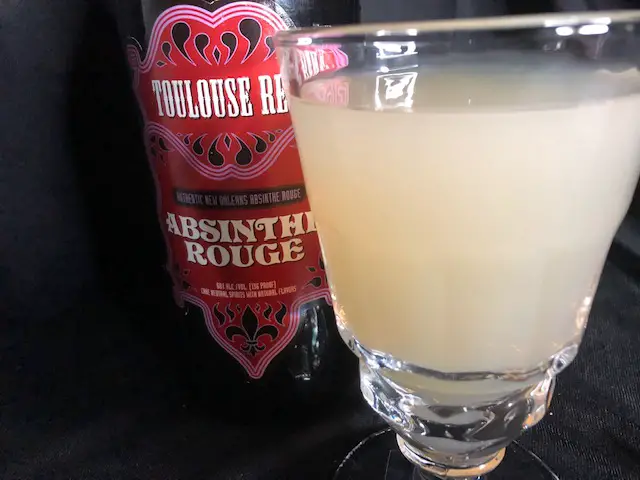 Conclusion – Reviewing Atelier Vie Toulouse Red Absinthe Rouge
With new and exploding interest in both distilling and absinthe, we're beginning to see a ton of new absinthes being produced in the United States. Each brings in regional flavors and aspects that make them interesting and unique.
But Atelier Vie seems to have received the blessing of the Green Fairy herself. This is seriously a distillery to watch as the demand for quality American absinthe continues to grow!
There's a clear passion behind Toulouse Rouge and it shows in every aspect. While I may not have given it the same 5-star rating as Toulouse Verte, it was a very close call.
My only point of critique with Toulouse Rouge is that I wasn't getting the same rich oil textures that I got from Toulouse Verte.
While this is entirely a matter of personal preference, I was slightly surprised at how much lighter the mouthfeel of Toulouse Rouge is.
For some that might be a positive, though.
If you find a bottle of Toulouse Rouge and enjoy absinthes that are delicate and floral with refreshing citrus elements, you should absolutely pick up a bottle of this.
I may not reach for rouges terribly often (I generally prefer absinthe verte), but I will be making sure that I always have at least one bottle of Toulouse Rouge in my collection.
You can check the availability of this wonderful absinthe near you on Atelier Vie's website!