When you think about absinthe, you might imagine chic Parisian cafes or perhaps a jazzy romp down New Orleans' famous Bourbon Street.
Whatever you imagine, it's probably a safe bet that Texas isn't what comes to mind.
But one distillery is changing that!
Truth be told, I've been eagerly trying to get to this review for over a year now.
In that time, I've gone through more than 2 entire bottles of Violet Crown's Emerald Absinthe. Since I write these reviews while also sipping on the absinthe being reviewed, this has created a bit of a problem.
But the time has finally come to offer up the Absinthe Fiend review of Violet Crown Spirits' Emerald Absinthe!
Let's get right into it!
What Is Violet Crown Emerald Absinthe?
Violet Crown Spirits comes to us from Derelict Airship Distillery in Bastrop, Texas. (I hope to visit them in person on my next trip to nearby Austin!)
I'm particularly fond of their Elderflower liqueur for cocktails like the Thai Hallucination.
But there's no question that absinthe is the star of the show. Violet Crown currently has two absinthes: Emerald (a verte) and Opal (a blanche that I review here).
The Emerald particularly holds the distinction of being Texas' first award-winning absinthe verte. It won Best In Category from the American Distilling Institute in 2018!
Just be warned: this one packs a punch!
Violet Crown's Emerald Absinthe is a 140-proof absinthe which means it's a whopping 70% ABV. It is made with a grape spirit base in 55-gallon batches in a custom-built still.
In fact, the Founder of Violet Crown Spirits, Matthew Manusco, is a biochemist and distiller who based the recipe for Violet Crown's Emerald Absinthe on centuries-old recipes and his own experimentation.
What results is an absinthe with one foot in a European absinthe tradition and one in the American tradition.
However, it still stands out as an innovative offering in its own right!
Related: Why Is Absinthe So Strong? [Answered!]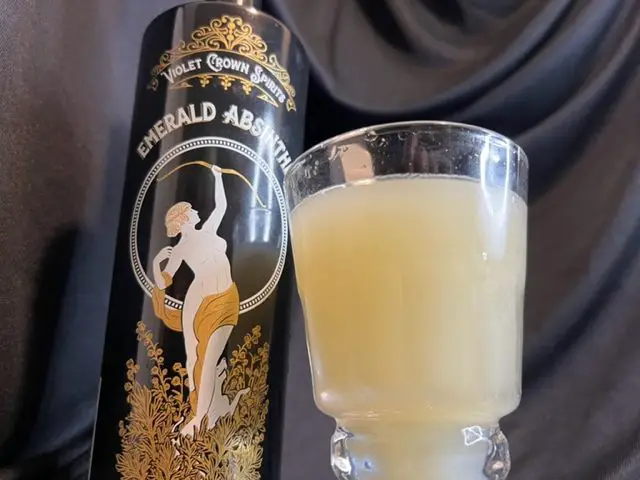 Aroma
Unlouched, the aroma of Violet Crown Emerald is earthy with an astringent edge to it. The wormwood, anise, and coriander are the most noticeable aromas.
As you prepare this absinthe and the louche forms, the earthiness of the aromas steps back as more herbal aromas come out to play.
Most noticeably the peppermint becomes more apparent while the coriander and anise become more pronounced.
The unmistakable aroma of wormwood is still there, but it instead forms an undercurrent that seems to lift the other herbs' presence.
Violet Crown Emerald Absinthe seems to relish the unique earthiness of its aromas.
With a tinge of spice to round it out as well as cooling mint to keep it fresh, it's hard not to fall in love with this noticeably different aroma.
You might spend just as much time sniffing your glass as you do drinking it!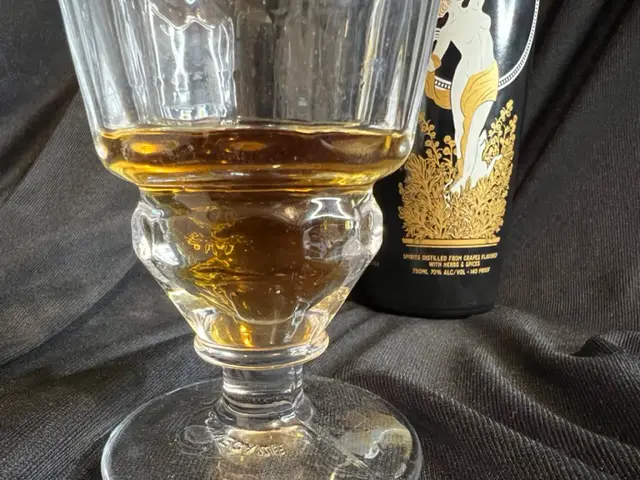 Color & Louche
Despite the name, the color of Violet Crown Emerald is closer to a dark amber. However, there is a pleasant depth to the color.
Even before you begin preparing it, you'll see swirls of the natural oils from the absinthe's herbs dancing in the glass.
When you are nearing the bottom 25% of the bottle, you will undoubtedly begin seeing the presence of some sediment. There is no need to fear this as they are just herbs that are carried over from the distilling process.
The louche takes a while to take hold when preparing Violet Crown Emerald Absinthe. The suspense definitely builds!
However, once it starts, the louche seems to build and build forever. It's truly magnificent watching the louche build to a rich and creamy yellow-green hue.
Pay close attention to the oily layer that builds as you add water and the louche forms. It makes for a beautiful visual effect that also highlights the freshness of the ingredients!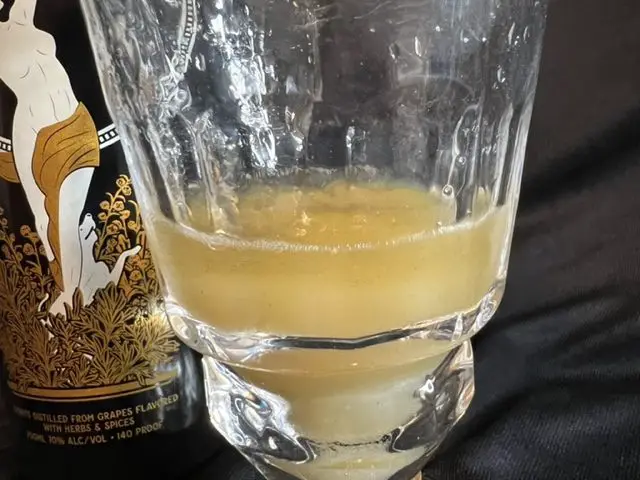 Flavor
Expect a slight astringency. It's hardly a punishing amount, but it's no surprise that it would be here. After all, this is a 70% ABV absinthe!
But the flavors that are carried in each sip are infinitely enchanting.
The anise is noticeably pulled back a bit here. While I would normally be slightly upset about that, Violet Crown Emerald Absinthe makes up for that with a bouquet of truly rich flavors.
So, I suppose it's probably fairer to say that the anise isn't pulled back so much as the other flavors are pulled forward.
Wormwood has a proud presence throughout each sip with the anise and fennel being most noticeable on the back end.
The mid-palate is where Violet Crown Emerald particularly shines, though. The mint and licorice are certainly pleasant and are further built upon with hints of coriander.
But I can't get enough of the pepper flavor. It's not enough to make this a "spicy" absinthe, necessarily, but it does add a playful "love bite" to it.
All of this is delivered in an earthy, creamy texture that lingers with the final notes of rich golden raisins.
Recommended: How to Properly Prepare Absinthe (Beginner Friendly Guide)
Conclusion – Violet Crown Emerald Absinthe Review
Even setting aside my pride as a fellow Texan, I'm a huge fan of this absinthe. As far as I'm concerned, it has a permanent place on my shelf.
The biggest issue that some might take with Violet Crown's Emerald Absinthe is actually not about its flavor.
Simply put: as a small distillery with a focus on using the highest quality ingredients possible, this is not a cheap absinthe.
In fact, it's the second most expensive (around $90/bottle) absinthe I've reviewed on this site (after LaRusée Bleue which still holds the record.)  
But even though it's pricier than many other options, it's absolutely worth it. When you look at the value that's being presented with such quality absinthe, it's actually not a terrible price.
The flavor is like no other absinthe I've tried, and every single aspect of this absinthe is overflowing with obvious signs of passion for making absinthe.
So, is it any wonder I'm giving Violet Crown Emerald Absinthe a 5-star rating?
To Monsieur Manusco and the rest of the team at Derelict Airship Distillery, I raise my glass to you!
Santé!